NH Personal Injury Lawyers: Traumatic Brain Injuries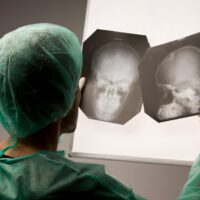 The Back Story
The movie Concussion opens with the story of "Iron Mike" Webster. Fifteen years as a center in the NFL for the Pittsburgh Steelers had earned him stardom and four Super Bowl rings, but also a host of behavioral and memory problems in his later years. Pittsburgh's hometown hero gave away or lost all of his money, would often slip into a catatonic state, and eventually became homeless, living out the last years of his life in his truck.
After Webster died at the age of 50 from a heart attack, a young Nigerian forensic pathologist named Bennet Omalu (played by Will Smith) performed the autopsy for the county coroner's office. Omalu had heard the stories about how Webster had essentially gone crazy in his later years and wanted to know why. After months of studying Webster's brain, he discovered signs of a new disease marked by severe brain damage. He named it chronic traumatic encephalopathy (CTE) and published a paper that linked the new disease to the repeated concussions suffered by Webster while playing football.
While the NFL rejected Omalu's report that Webster and other NFL players suffered CTE as a result of playing football, the genie was out of the bottle, so to speak. Several subsequent studies of NFL veterans and other athletes vindicated Omalu's research and ignited a firestorm of concern and discussion about sports-related concussions. Eventually we would learn that even mild traumatic brain injuries can more than double the risk of early-onset dementia.
The Big Denial

Anatomy of an impact. Click image to expand.
For years, the NFL ignored extensive medical evidence until finally acknowledging in 2009 that repeated head injures can cause brain damage. Litigation has played an important role in forcing the NFL (and other organizations) to address this growing crisis and change head injury protocol, as documented in this extensive report from the American Association for Justice. Attorneys and Dr. Bennet Omalu joined forces with the family of Mike Webster and other past NFL players to sue the NFL for disregarding medical research and not doing more to prevent TBIs. During this lawsuit, it was revealed that the NFL ignored its own actuarial research showing an estimated one-third of its former players would suffer from brain damage caused by traumatic brain injuries.
The NFL eventually settled for $765 million, causing a ripple effect throughout the sports world. Many professional, college and high school sports programs have changed concussion protocols and rules of play as a result, and insurance companies have followed suit by requiring stricter adherence to proper procedures for traumatic brain injuries care. The NFL even started its own brain bank to study the brains of former players with the hopes of creating new measures that will combat the possibility of brain damage or CTE. NFL data released ahead of Super Bowl 50 showed that concussions were down 25% this season, mostly due to changes in technique by the players.
The Story Closer to Home
In 2006, high schooler Zackery Lystedt went back out on the football field after suffering a concussion earlier in the game. After being struck in the head again, Zackery collapsed with what proved to be a debilitating brain injury. In 2009, his home state of Washington passed the Lystedt Law. This legislation requires annual mandatory training for athletes, parents and coaches. It also requires the immediate removal from sporting events and practices of any athlete suspected of having suffered a concussion until cleared for return by a medical professional. Since Washington took action, every state except Wyoming has enacted a "When in Doubt, Sit Them Out" law. Compliance to these guidelines has increased from 50% in 2007 to 80% in 2013.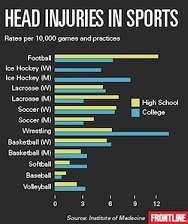 Football is the lead cause of head injuries for high schoolers. Click image to expand.
That's the good news. The bad news is that very few states have enforcement mechanisms to make sure these laws are being followed, and only six states require parental notification of a child's traumatic brain injuries. So for parents, athletes and coaches, vigilance is still the first line of defense. Know the signs and protocol for dealing with traumatic brain injuries (review here) and don't delay seeking medical attention. Note that many other contact sports cause head injuries, as outlined in the chart above, not just football. Automobile crashes and other blunt trauma to the head account for many times more.
The brain is an amazing organ. It is both durable and fragile at the same time. It contains the keys to our functioning, our personality and our identity. Guard yours well, and those of your children.