The Law Office of Manning Zimmerman & Oliveira PLLC is pleased to recognize our 2019 winners of the $1,000 Distracted Driving Scholarship written entry as she nears completion of her first semester at college.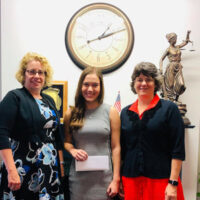 Rachel Reardon, of Windham wrote that her generation's immediate access to information makes it hard to put that expectation on hold once they get behind the wheel.   She knows that any time a driver's attention is less than 100%, the risk of an accident increases sharply, and the consequences can be life-altering.  While most cell phones offer the option to disable their use while a person is in the car, and there are several safe driving apps that parents can purchase for their teen, Rachel believes not many teens are amenable to either of these options.
The good news is that Rachel believes it's no longer socially acceptable to be on your phone while driving, and there is a hands-free law in New Hampshire.  When she is a passenger in a car, she'll remind her friends that texts can wait, and the driver's sole focus should be the road ahead. She's not afraid to speak up, and urges other's to do the same.
What else can be done to prevent distracted driving? 
Rachel says that raising awareness is key, whether it's through better driver's education or speaking up when seeing teens or adults drive distractedly.
Remind drivers that that hands-free law also applies even when the car is stopped in traffic or at a red light.
If you're a passenger, offer to take charge of the music or other tasks which could be a distraction.
Be confident that reminding people to do the right thing will help save lives.
Please do your part!
As we head into the holiday season, we wish our scholarship recipients the best in their final exams, and wish all students a safe winter break. Please join us in speaking up about distracted driving. It could save a life this holiday season!
Pictured Above Left to right: Anna Goulet Zimmerman, Rachel Reardon, Maureen Raiche Manning.