How to Prove Negligence in My Personal Injury Case in New Hampshire?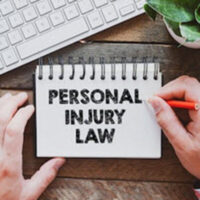 In New Hampshire, you cannot recover damages for your injury if you cannot prove that another party was negligent. In fact, four elements of negligence must be established in order to seek compensation in a personal injury case in New Hampshire.
Consider hiring an experienced personal injury attorney to help you investigate your case and prove that another individual was negligent. At the Law Office of Manning Zimmerman & Oliveira PLLC, our team of results-driven lawyers is committed to fighting for fair and full compensation on your behalf so that you can focus on your recovery.
Four elements of negligence in New Hampshire
When it comes to proving negligence in New Hampshire personal injury cases, you must establish four elements:
Duty of care
Breach of duty
Causation
Damages
Duty of care
Each individual is expected to exercise due care and avoid causing harm to others. If a person fails to act reasonably and the "breach of duty" causes someone else's injury, that person can be held liable for the resulting injuries and damages.
In the context of a car accident, a duty of care is created by traffic rules and the standards of safe operation that our community expects to be followed on our roads. For example, if a driver exceeds the posted speed limit and ends up causing a collision, the injured party can prove that the driver failed to act reasonably because speeding is a traffic law violation. However, a violation of a traffic law is not required, and a driver may be responsible for simply driving in a manner which is not safe or taking into consideration the safety of others on the road.
Breach of duty
As mentioned earlier, when a person fails to uphold their duty of care, a "breach of duty" occurs. In the context of car crashes, police reports are often the best way to prove that a driver breached a duty of care. Witness statements and crash reconstructionist can also provide valuable information on what happened at the scene of a crash.
Causation
Under New Hampshire law, one of the requirements to obtain compensation is to prove that someone else's failure to exercise due care was an actual or proximate cause of the plaintiff's injury.
Causation looks at whether the negligent conduct cause the crash. For example, if another driver exceeded the speed limit when the car crash occurred, you would still need to show that the driver's actions (speeding or something else) were what actually caused the crash.
Causation may also be a question with regard to the injuries suffered. If you are hit by another car and suffer a compound fracture of your ankle, is seems clear that the car crashed caused the injury. But what if you have problems with your ankle and the car crash makes those injuries worse? You will likely need a medical doctor to provide evidence regarding what injuries were caused by the crash.
Proving causation is often complicated, which is why it is vital to let a skilled personal injury attorney handle your case to establish a link between the defendant's negligent conduct and your injury.
Damages
It is not enough to prove that another person's negligent acts caused you harm, as you must also present convincing evidence that you suffered damages as a result of that negligence. Some of the damages that you may have incurred are:
Medical expenses
Loss of income
Property damage (e.g., the cost of repairs to your vehicle)
Pain and suffering
Out-of-pocket expenses
What if I'm partially at fault for the accident?
New Hampshire follows the modified comparative negligence rule, which means you are entitled to compensation even if you are partially at fault for your accident. However, you cannot be more at fault than the other party to be eligible for compensation.
Note: if you were partially at fault, your total damages award would be reduced in proportion to your degree of responsibility. For example, if a jury said you were 20% at fault in your crash and your total damages were $100,000.00, then the court would order the driver that was 80% at fault to pay you $80,000.00 for your damages.
Speak with our Manchester personal injury attorneys to help you prove negligence in your particular case. Call 603-624-7200 to schedule a consultation today.