What Happens When an Uninsured Motorist Causes a Car Crash?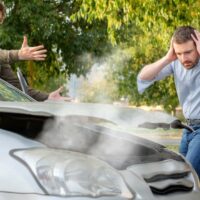 Managing an Uninsured Motorist Claim
New Hampshire is one of the few states in the U.S. that does not require its drivers to carry car insurance. In cases where one driver's fault causes either property or bodily damage, the driver is required to pay for any expenses that the injured party suffers. The at-fault party's license is suspended until they can show they can pay for the crash they caused. Sometimes they do this out of pocket. Other times, they come up with a repayment plan. Purchasing car insurance after a crash is another way to cover the costs owed to the injured party.
Have you been in a serious car crash? If so, did it involve bodily injury and/or major damage to your car? In that instance, it helps to have a NH injury lawyer representing you in your uninsured motorist claim against the at-fault party. The Law Office of Manning Zimmerman & Oliveira PLLC has helped numerous New Hampshire motorists recover damages from negligent drivers who either did not carry car insurance or did not carry enough car insurance.
Worst Case Scenario: The Motorist Won't or Can't Pay
No insurance system in any state is foolproof, and New Hampshire has its strengths and weaknesses. If an uninsured driver causes a major crash they can prove payment by purchasing car insurance. Their new car insurance policy would cover the difference. But what about situations in which a motorist cannot afford car insurance?
While you can sue the motorist directly and their license won't be restored until they start paying you for your damages, a motorist who cannot afford to make insurance payments is not a motorist who has a vast quantity of assets. You can sue them and win a verdict. But if they file for bankruptcy, you still may never see very much of the money they owe you. Now what?
This is where having uninsured motorist coverage can be a great asset. This form of insurance covers you in the following three cases:
The at-fault driver is uninsured;
The at-fault driver does not carry enough coverage to settle your damages;
You're involved in a hit-and-run crash.
When a motorist is uninsured and causes a crash, your uninsured motorist policy pays out. In other words, you make an uninsured motorist claim against your own policy and the insurance company reimburses you for your damages. They can then turn around and sue the at-fault driver for the money they paid to you.
Understanding Uninsured Motorist Coverage
The State of New Hampshire requires auto insurance companies to offer Uninsured/Underinsured Motorist Coverage (UMC) in an amount that equals your liability coverage. So if you have a liability coverage of $25,000, the insurance company must offer you a UMC of $25,000. If you carry $75,000 in liability coverage, the insurance company must offer you a UMC of $75,000.
The reason the state has to force insurance companies to offer this insurance is because they would really rather not. Simply put, if forced to pay out should an uninsured motorist causes a crash, it can be difficult to recover that money from the motorist. In many instances, they will look for reasons to deny your uninsured motorist claim.
Are you locked in a battle with an insurance company over a claim? If so, it helps to have a New Hampshire injury lawyer prepare the case for you.
Why? Because insurance companies will go out of their way to deny a claim whenever possible. Every claim you make needs the backing of proof. A Manchester injury attorney at the Law Office of Manning Zimmerman & Oliveira PLLC can help you with this process.
If your uninsured motorist claim is denied, you may need the help of an injury attorney to make your case. Don't leave such decisions to the insurance company's discretion. For a free consultation, contact the NH injury attorneys at the Law Office of Manning Zimmerman & Oliveira PLLC. We may be reached at 603-624-7200 or by email at info@MZLawNH.com. We may also be contacted by using the "contact us" or chat feature on our website.
Experienced. Knowledgeable. Personally Committed to Justice.
The NH injury attorneys at the Law Office of Manning Zimmerman & Oliveira PLLC invite you to subscribe to our newsletter. You can also follow us on Twitter.