Backlog Improves, But Vets Still Struggle for Veterans Disability Benefits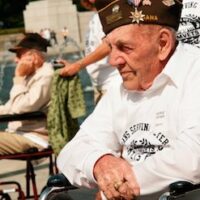 In this month's Let America Know newsletter brought to you by the Law Office of Manning Zimmerman & Oliveira PLLC, it is noted that story after troubling story about veterans disability benefits continue to appear in news reports across the country. Veterans apply for the veterans disability benefits they were promised in service to their country, only to wait a year or more as huge backlogs at the Department of Veterans Affairs (VA) delay their requests. If a request for veterans disability benefits is rejected and appealed, the average wait time balloons to 3.5 years. And to add insult to injury, nearly 74 percent of those appeals in 2012 were either reversed in favor of the vet by the Board of Veterans' Appeals or sent back because of errors by VA staff.
Given the poor health and age of many vets – 1.7 million World War II vets are still alive while a million Vietnam vets are turning 65 – many die before they or their survivors ever see a penny, according to Returning Home to Battle, an ongoing investigation of the troubled VA by the Center for Investigative Reporting. "It's beyond tragic," said Bonnie Carroll, founder of Tragedy Assistance Program for Survivors. When a veteran dies without his or her veterans disability benefits, she said, families face not only the financial burden of medical bills and burial costs, but also emotional distress from the "loss of connection to the military that their loved one served and sacrificed for."
While the VA has shown progress in reducing the veterans disability benefits claims backlog (first-time requests pending 125 days or longer), significant problems remain, according to many veterans advocates. Since March 2013, the backlog has been cut from 611,073 to 244,602 claims as of Oct. 4. Yet, the average wait time for a response to a claim has increased from 291 days to 345 days during the same time period.