NH personal injury attorneys address Lemon Laws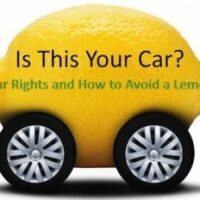 In this month's "You Should Know" newsletter presented by the NH personal injury attorneys at the Law Office of Manning Zimmerman & Oliveira PLLC, we discuss the fact that most lemon laws state that buyers are entitled to a remedy if their cars are out of service for an extended number of days due to failure, or serviced over extended periods for the same problem. These laws vary by state and by the nature of the repairs covered. Some problems are obvious, like the car not starting, power loss, or transmission failure, while others fall into a gray area, such as wind noise, fluid leaks and excessive tire wear. Because of this, remedies can vary greatly in lemon law cases, from full car replacement or repurchase by the manufacturer to small monetary awards to compensate for a minor issue that does not affect driver safety.
Some of the steps you should take if you think you might be the proud owner of a brand new, bright yellow lemon include:
Learn about the New Hampshire Lemon Law and how a lemon is defined in state law, what is covered, and how much time you have to file a complaint.
Collect all records on your car, including purchase contracts, service orders and invoices, together with all warranties and the owner's manual. Take notes on all conversations with the dealer and service technicians, recording any comments along with the time and date of all attempted repairs.
Ask the dealer for a copy of all manufacturer's technical service bulletins on your car.
Track how long and how often your vehicle is in for repairs with dates, times in and times out.
Call the New Hampshire personal injury lawyers at the Law Office of Manning Zimmerman & Oliveira PLLC to help you understand your options and evaluate your case.
Our civil justice system provides for victims of negligence to recover full, fair and adequate compensation for their injuries. The personal injury attorneys at the Law Office of Manning Zimmerman & Oliveira PLLC handle cases in all areas of personal injury law, and we work diligently to ensure that our clients receive compensation for their injuries. Please call our office at 603-624-7200 or complete the form on this page to schedule a free initial consultation. Evening and weekend appointments are available.
To subscribe to our newsletter, click here. We are also on Facebook and you can follow us on Twitter.