Can You Recover Damages from a Scuba Diving Company After an Accident?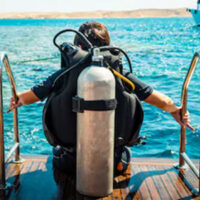 Scuba diving is an excellent way to explore the underwater world of marine animals. Scuba diving and snorkeling are popular attractions in New Hampshire, but these fun and seemingly harmless activities can lead to injuries and death.
If you were injured in a scuba diving accident, you could be entitled to compensation. Whether or not you can seek compensation depends on whether your accident was caused by negligence on the part of the scuba diving company, its instructor, or other parties. You could recover damages from the scuba diving company if the company or its diving instructor acted unreasonably or negligently, which resulted in your injury.
Scuba Diving Accident in New Hampshire
The dangers of scuba diving were evident in a recent accident near the Isle of Shoals. As reported by Central Maine, a 45-year-old woman died after suffering critical injuries when scuba diving off the coast of Kittery.
The woman was diving with a recreational dive charter company when the scuba diving accident occurred. The woman was taken to a New Hampshire hospital, where she was pronounced dead. The cause of the scuba diving accident is not known yet.
When Can You Recover Damages from a Scuba Diving Company?
In New Hampshire, you can seek compensation from a scuba diving company when your personal injury attorney can prove that the company failed to exercise due care or was negligent.
However, snorkeling and scuba diving companies cannot be held liable for all injuries that occur underwater or while scuba diving. You may be able to prove that the scuba diving company was negligent when it:
Failed to provide proper instructions. A scuba diving company must properly train its instructors in order to ensure that they know what they are doing and can teach divers to be safe when scuba diving. A company can be held responsible for your injury if it did not provide proper instructions before the dive.
Failed to maintain its equipment properly. A diving company must exercise due care in inspecting and maintaining its diving equipment to prevent scuba diving accidents.
Allowed you to scuba dive in adverse weather conditions or unsafe water conditions. Before each dive, the company's dive operator or instructor must determine whether it would be safe to dive based on the weather and water conditions. If unsafe water or weather conditions result in a diver's injury, the company could be held liable.
Other Potentially Liable Parties in Scuba Diving Accidents
The scuba diving company may not be the only potentially liable party for your injuries. Other at-fault parties may include:
Manufacturer. If your scuba diving accident was caused by a defective or faulty scuba diving equipment, you might be able to pursue a product liability lawsuit against the manufacturer.
Boaters. If you were struck by a boat operated by a negligent boater while scuba diving, you could be able to recover damages from them.
Other divers. Since scuba diving usually occurs in groups, other divers could potentially be held responsible for your injuries when their negligence, carelessness, or recklessness causes an accident.
Speak with our Manchester personal injury attorneys at the Law Office of Manning Zimmerman & Oliveira PLLC to establish fault in your scuba diving accident and identify liable parties. Call at 603-624-7200 or 800-984-3151 for a case review.
Resource:
centralmaine.com/2020/08/31/saco-woman-dies-as-a-result-of-scuba-diving-accident/
https://www.manningzimmermanlaw.com/ubers-safety-report-reveals-disturbing-passenger-and-driver-claims/