Young Athletes And Serious Injuries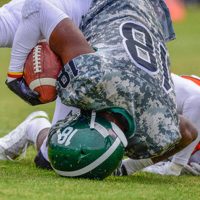 As parents, we want to see our young athletes succeed. But at what cost? What if your young athlete suffers serious injuries while pursuing their early career? What if these injuries were preventable, and you believe that a school or athletic club is to blame? You're not the first parent to worry about this issue – and you may have the ability to sue negligent parties if your child was injured due to their negligence. So when exactly can you file a lawsuit for your young athlete's serious injuries in New Hampshire?
 Head Injuries 
Over the past few decades, the medical community has discovered just how harmful head injuries can be for younger individuals. Many young athletes suffer serious, repetitive head injuries during their athletic pursuits in high school or college. Some sports seem to involve more head injuries than others, such as American football, rugby, and ice hockey. However, there are some seemingly low-contact sports that have a surprisingly high number of head injuries. For example, girls' soccer has the highest rate of concussions after American football due frequent "headers" and a well-documented gender gap when it comes to head injury vulnerabilities.
You may be able to sue schools, colleges, and athletic clubs for head injuries if they fail to take action or follow proper medical protocols after concussions. For example, a coach might order an athlete to keep playing even after suffering a concussion. These orders might go against advice from doctors, and it may lead to even more damages. Head injuries have the potential to completely change athletes' lives, and there are even accounts of young people committing suicide after suffering numerous concussions.
 Hazing 
Hazing occurs when team members bully others with both physical and psychological harm. New recruits are often hazed, but this bullying may also be directed towards athletes who have made mistakes – such as dropping the ball or failing to attend practice. New Hampshire has made it illegal to engage in hazing, and when a victim is injured they may be able to sue the organization responsible for allowing this to happen.
Barriers to Claims 
Although you can potentially sue for a wide range of other injuries that children suffer during sports, there are barriers that may apply as well. For example, there is a legal concept called "assumption of risk" can make it difficult to hold parties accountable in some situations. In the eyes of the law, children and their families should be aware that there is a reasonable chance of injury when they participate in sports. This is why it might only be possible to sue in certain situations.
Additionally, under New Hampshire Law (RSA 200:52) individuals and entities may be immune from any civil liability for good faith conduct related to the injury or death of a student-athlete provided other statutory provision are complied with. This limitation of liability extends to school-sponsored athletic activities.
If you or your child have been injured while playing sports and you believe it may be due to the negligence of another party, an experienced personal injury attorney can review the situation to determine whether or not you will be able to pursue a claim.
 Where Can I Find a Qualified Personal Injury Attorney in New Hampshire? 
If you've been searching for a qualified, experienced Manchester personal injury attorney who can help you strive for justice on behalf of your young athlete, look no further than the Law Office of Manning Zimmerman & Oliveira PLLC. If your child's injuries were caused by their school, their university, or an athletic organization, you may be able to pursue a claim for the damages suffered. Your child's athletic progress shouldn't come at the cost of life-changing, traumatic injuries. Book your consultation today to get started with an effective action plan.
Sources:
yourteenmag.com/health/physical-health/concussions-in-girls-soccer
gencourt.state.nh.us/rsa/html/XV/200/200-51.htm