Notice Of Dangerous Conditions In New Hampshire Slip And Falls Cases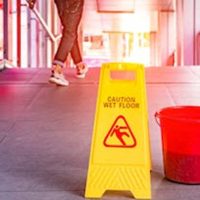 Many people are surprised to learn that accidental falls are a leading cause of death and disability in the US, but statistics are proof. According to the US Centers for Disease Control and Prevention (CDC), more than 32,100 people are killed because of unintentional injuries due to falls every year, placing these incidents in the #2 spot for fatalities. Plus, more than 6.8 million people seek medical treatment in hospital emergency rooms because of slip and fall injuries.
When dangerous conditions on property are the cause of a slip and fall accident, New Hampshire premises liability laws provide victims with legal remedies. In short, businesses and property owners are required to keep their space in reasonably safe condition, so they can be held accountable when they fail in this duty. However, having notice of a hazard is a key component of a premises liability claim. A Manchester slip and fall lawyer can explain how the laws work, and some basics are also informative.
Notice in Premises Liability Claims 
Slip and falls and other accidents on property are based upon the concept of negligence. As such, the property owner's duty to maintain a safe premises focuses on reasonableness. That person or entity must undertake the same measures that a reasonably prudent owner would to avoid causing a risk of harm to others. Notice enters the picture when looking at what is foreseeable in terms of risk. A property owner could not be expected to protect against hazards that are not reasonably foreseeable.
For purposes of foreseeability, there are two types of notice in a slip and fall case:
The property owner receives actual notice upon observing it or otherwise becoming aware of it. A customer report or notification from employees are examples.
Notice could be imputed to the property owner where a hazard should be observable through indirect means. A hazard that occurs frequently or which sits unattended for a length of time provides constructive notice. 
Proving Constructive Notice 
It is rare that a victim has evidence of actual notice, so constructive notice is the basis for most premises liability claims. Evidence for a slip and fall case may include:
Leaking pipes that drip to form puddles;
Unsecured shelves full of merchandise;
AC and refrigeration units that drip fluid to create slippery surfaces;
Inventory, equipment, cleaning supplies, and other debris cluttering up aisles;
Broken or missing railings and guard rails;
Unstable stairs and balconies;
Defective elevators and escalators;
Loose tiles, flooring, rugs, and carpeting;
Lack of proper lighting in parking garages, hallways, and common areas; and,
Carelessness in making repairs to dangerous conditions after discovering them.
If you are able, take a picture at the scene of your fall showing what caused you to fall. This could be used later to help prove what caused the fall and/or how long the condition was present.
Contact a Manchester Slip and Fall Attorney to Discuss Remedies
Actual versus constructive notice is just one aspect of a premises liability case, and you need solid evidence of all elements to prevail. For more information on proving your claim, please contact the Law Office of Manning Zimmerman & Oliveira, PLLC. You can call 603.624.7200 or visit us online to set up a no-cost case evaluation with a New Hampshire slip and fall lawyer.