Helping Your NH Personal Injury Attorney Handle Your Case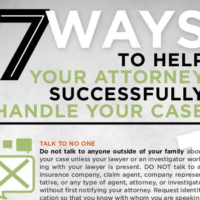 Having a NH personal injury attorney at the Law Office of Manning Zimmerman & Oliveira PLLC handling your case is one of the best steps you can take to increase your chances of success. Keep in mind that the most important factor in the success or failure of your case is your help and cooperation. Listed below are 7 steps that you can take to increase the strength of your case.
Contact an Experienced NH Personal Injury Attorney for a Free Consultation
Have you or a loved one been injured by another person's careless acts? If so, it is essential that you have competent legal representation from the onset of your case through litigation. Big insurance companies have lawyers looking out for their interests and you should too!
For a free consultation, contact the Manchester injury attorneys at the Law Office of Manning Zimmerman & Oliveira PLLC. We may be reached at 603-624-7200, by email at info@MZLawNH.com, or by using the "contact us" or chat feature on our website.
Experienced. Knowledgeable. Personally Committed to Justice.
We invite you to subscribe to our newsletter. You can also follow us on Twitter.